Aurangabad Special Attractions
Aurangabad
Aurangabad is named after Aurangzeb, the last of the six great Mughal emperors. It is a convenient base for visiting the famous rock-cut temples of Ajanta & Ellora. Aurangabad city is located in the northern part of the state of Maharashtra, in the western region of India. It is 375 km from Mumbai (Bombay). The city is surrounded by hills. The weather of Aurangabad is temperate with moderate winters (November-February) and summers (April-June). This region experiences good southwestern monsoon rains in June-September. River Kham passes through the city of Aurangabad.
GENERAL INFORMATION
Area
: 200 Sq. Km.
Altitude :
513 Mts.
Temperature :
Summer : Max. 40.0 Deg.C. Min. 24.0 Deg. C
Winter :
Max. 30.0 Deg.C. Min. 14.2 Deg. C.
Rainfall :
557 Mm.(June-Sept)
Season:
Throughout the year.
STD Code :
0240
TRANSPORT AND COMMUNICATION
Air :
Aurangabad is connected by Indian Airlines/Jet Airways/King Fisher/Jet Lite with Delhi, Mumbai .
Rail :
Aurangabad is directly connected by rail with Bhopal, Gwalior, Mumbai, New Delhi, Hyderabad, etc.
Road :
Aurangabad is well connected by road with Ahmedabad 623 Km., Bangalore 1004 Km., Bhopal 644 Km., Delhi 1371 Km., Gwalior 950 Km., Hyderabad 599 Km., Jaipur 1013 Km., Khajuraho 1026 Km., Mahabaleshwar 348 Km., Mumbai 392 Km., Nashik 204 Km., Nanded 277 Km., Panaji 730 km., Pune 233 Km., Shirdi 121 Km., Surat 379 Km. and Udaipur 886 Km.
PLACES OF ATTRACTIONS
Aurangabad Caves
A major chunk of the caves in Aurangabad are Viharas. Total number of caves is twelve; out of which cave number 3 and 7 are the most fascinating ones. Cave number 1 to 5 are in the western group and caves from 6 to 10 are in the eastern group. Tantric influences are noticeable in Aurangabad caves. Aurangabad caves are just a few kilometers away from the famous monument of Bibi Ka Maqbara. These caves are believed to be excavated between 2nd and 6th century AD. Aurangabad caves are carved out of the hillside and are a fine piece of architecture. Cave number 6 showcases women with some exotic hairstyles and ornamentation and one can notice that these sculptures are still undamaged after so many years. A huge Buddha figure and an idol of Ganesh are preserved in this cave. Cave number 7 is regarded to be the most interesting as it has the figures of women scantily clad and ornately bejeweled are indicative of the rise of tantric Buddhism during this period.
Entry Fee:
India `.5/- & Foreigners ` 100/-
Open:
Sunrise to Sunset;
Bibi Ka Maqbara: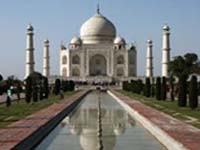 Bibi Ka Maqbara is a magnificent mausoleum, situated at a distance of approximately 5 km from the Aurangabad city of India. It entombs Rabia-ul-Daurani, alias Dilras Banu Begum, the wife of the Mughal Emperor Aurangzeb. The construction work on the mausoleum was started in the year 1651 and it took approximately 10 years to complete it. Prince Azam Shah, the son of Aurangzeb, got the tomb built in the memory of his mother. The main entrance door of Bibi ka Makbara is adorned with an inscription.
Entry Fee:
India `.5/- & Foreigners ` 100/-
Open Time :
Sunrise to 2200 hrs.
Panchakki: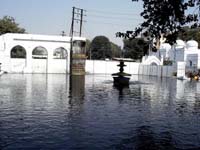 Panchakki is a major attraction of Aurangabad and its literal meaning is water mill. This mill receives its share of water that travels through an underground channel from a source which is 6 km away in the mountains. The water is then discharged on to the wheel creating a fascinating waterfall. There is also a garden and fountains with fish-filled tanks adding to the charm of the entire area.
Panchakki also has a tomb of Baba Shah Muzaffar, a Sufi Saint who was spiritual adviser to Aurangzeb.
Entry Fee:
` 5/- (Indian/foreigner).
Open Time :
Sunrise to 2000 hrs.
Siddharth Garden & Zoo: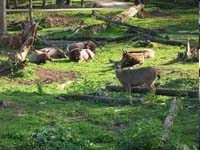 A famous picnic spot. Timings:0900 to 2000 hrs.
Entry Fee :
Garden & Zoo: `.2/-(Adult)& `.1/- (Child),
Entry Fee for Musical Fountains:
Rs.5/- (Adult)& `.3/-(Child) Daily one show at 1825 hrs. only. Garden is open all days.
Zoo & Musical fountains closed on Tuesdays;
Museums:
History Museum of Dr. B.A. Marathwada University:
Timings :
1030 hrs. to 1700 hrs. (Closed on 2nd & 4th Sat./Sun.& Public Holdiays),
Entry Fee:
Rs. 2/- Indian) & Rs. 5/- (Foreigner);
State Archaeology Museum, Sonehri Mahal; Shivaji Museum:
Tel:
2334087.
Timings:
1030 hrs to 1330 hrs, 1400 hrs to 1800 hrs.
Daulatabad Fort (13Km.):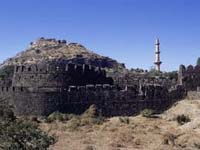 This fort was built by the Yadava dynasty in 1187 and was known as Deogiri. It was renamed Daulatabad by Mohd-bin-Tughlaq who shifted his capital temporarily here in 1326 A.D.
Entry Fee:
Rs.5/-(Indian) Rs. 100/-(Foreigners)
Open:
Sunrise to Sunset;
Khuldabad (26 Km.):
The tomb of the Mughal Emperor Aurangazeb is located in the southeast corner of a courtyard of the Burhan-ud-din's mausoleum. Aurangazeb chose his burial spot at Khultabad and also gave instructions regarding how it should be. The coffin of Aurangazeb was brought by his son Muhammad Azam Shah and caused his burial here. After his burial here, Aurangazeb was given a posthumous title 'Khuld-makan' (He whose abode is in eternity). The grave lies to the right of the southern entrance of the courtyard and is strikingly simple, according to Aurangazeb's wish. The grave is located at the centre of an elevated stone platform from the urrounding marble floor. The otherwise simple grave is relieved by perforated marble screen on three sides,
while the western wall of the Burhan-ud-din's mausoleum is on the fourth side. The screens were erected by the Nizams of Hyderabad at the behest of Lord Curzon.
Ellora Caves (29 Km.) :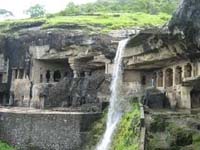 The Ellora Caves belong to the Buddhist, Hindu and Jain faiths. There are in all 34 caves, of which 12 are Buddhist, 17 Hindu and 5 Jain. The most remarkable of the carved shrines at Ellora is the Kailasa Temple 16 No. Caves,chiseled out from a single rock & is lavishly carved and sculpted.
Timings :
Open from 0700 to 1730 hrs. (Closed on Tuesdays).
Entry Fee :
Rs.10/-(Indians) & ` 250/-(Foreigners).
Accom: 1) Kailash Hotel, Near Ellora Caves, 2) Traveller's Bungalow, Khuldabad (3 km) 3) Khuldabad Guest House,Khuldabad. Resvn:Executive Engineer (B & C) P.W.D.,
Ghrishneshwar Temple (30 Km.) :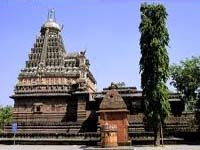 Grishneshwar temple, built by Rani Ahillyabai Holkar is an important Hindu pilgrim place located in the village of Verul, near Ellora caves. It is one of the twelve Jyotirlingas of India, where Lord Shiva is worshipped.Half a kilometre from Ellora lies this beautiful temple, built by Rani Ahillyabai Holkar, a Maratha princess. It is the most superb example of medieval temple architecture.This Jyotirlinga is said to be self - oriented. It is the last Jyotirlinga without which the journey to the Jyotirlingas is considered incomplete. The temple walls are richly sculptured. Queen Ahilyabai Holkar, who ruled Indore from 1765 to 1795, built both the temple and its masonry tank.
Mhaishmal (50 Km.):
A beautiful hill resort at an altitude of 913 mt.; Mhaismal, also spelt as Maheshmal, is a small hill station, situated at an altitude of 1067 m, in Aurangabad District of Maharashtra. It is about 12 km from Khuldabad on the way to Ellora caves.Places of tourist interest are an ancient temple of Girijamata, a beautiful lake and a 300 ft TV tower which can broadcast for 150 km range. An exact copy of the Balaji Temple at Tirupati is located at the top of the hill station. Mhaismal is well connected with Aurangabad, about 40 km away. The nearest airport and railway station are at Aurangabad.
Paithan (56 Km.) :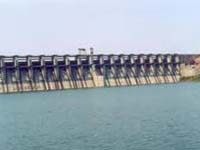 Situated on the banks of the river Godavari, is this ancient city of Pratishthan, also famous for its association with the renowned Marathi poet Saint Eknath, whose shrine is located here. Paithan is also famous for its gold and silver embroidered saris called 'Paithanis'. 4 Km. north of Paithan town is the Jaikwadi Project and the area around Jaikwadi has been developed into the Gyaneshwar Udyan, planned along the lines of the Brindavan gardens at Mysore.
Entry Fee:
Rs. 10/-
Pithalkhora Caves (75 Km.) :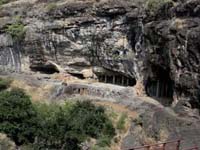 Pitalkhora Caves, A group of 13 caves - Chaityas and Viharas,
which dates back to 2nd century BC are only 40 km away from Ellora caves at Aurangabad. One can see here many unusual sculptures like Yaksa figures. The main gate has a wide terrace, with the naga and guardians flanking the door, and a row of elephants decorate the complex. A stair directly connects the entrance to the chaitya. A group of viharas, a chaitya hall, and two smaller caves across the gorge with stupas consist the complex.
Animal motifs, miniature chaitya windows, elephants, guardians, and yaksa figures can be seen as sculptures in this cave. Tourists can get down at Aurangabad and take a taxi to Pitalkhora, as it is the nearest place from these caves, which has got an airport and a railway station . Accommodation is available at the hotels at Aurangabad.
Shani Shingnapur (75 Km.):
The presiding deity of Shinganapur, Sri Shaneshwara or Lord Shanidev- the personification of the planet Saturn is worshipped with utmost reverence and devotion by multitudes of people from all over the world. The spectacle of the deity in black stone is overwhelming. A unique aspect of this place is, that no temple structure houses the Shanidev. There is only a simple platform on which stands the swayambhu idol, in black stone
Sindkhed Raja (90 Km.):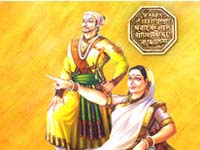 Sindkhed Raja is famous as the birth place of Rajmata Jijabai, the mother of the great Maratha warrior, Chhatrapati Shivaji Maharaj. Located The Buldhana District on the way of Lonar Crater
Ajanta Caves (104 Km.):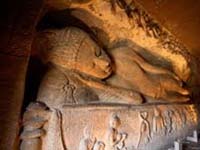 The thirty rock-hewn caves at Ajanta, cut into the scarp of a cliff are either Chaityas (chapels) or Viharas (monasteries).
On the walls of the caves are paintings, many still glowing with their original colours. The outer walls are covered with brilliantly executed sculpture. The Buddhist theme of the Ajanta paintings recounts the life of Lord Buddha and tales of his previous earthly experiences.
Entry Fee
10/- (Indians) `250 (Foreigners).
Timings :
From 0900 hrs. to 1730 hrs. (Closed on Mondays). (Non Poluted buses operated from Fardapur T. point to Ajanta Caves Bus fare ` 30/-) Accom: M.T.D.C. Holiday Resort, Fardapur, (5 Km. from Caves),.
Tariff: Apsara A/c Rs.900-1050/-, Padmapani Rs.650-750/-, Group Accom: Rs.850-950/-; Ajanta Travellers Lodge, Ajanta Caves, Dist. Aurangabad,Tariff: 'E' type Rs. 250/-; Fardapur Extension Resort,. Tariff: 'A' type Rs.200-250/-, 'E' type (8-beds) Rs.400-500/-,
Group Accom: Rs.500-600/-..
Nagpur :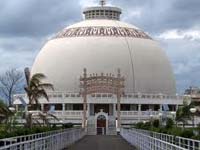 The region around Nagpur traditionally known as Vidarbha, is noted for its antiquity. Nagpur is the second capital of Maharashtra. Deekshabhoomi is a sacred monument of Buddhism at the place where Babasaheb Ambedkar converted to Buddhism along with his about 380,000 followers on October 14, 1956. Ambedkar's conversion to Buddhism is still a guidance for the masses in India. Deekshabhoomi is situated in Nagpur, Maharashtra, a location regarded as a pilgrimage center of Buddhism in India. Thousands of pilgrims visit Deekshabhoomi every year, especially on Ashok Vijaya Dashmi and the 14th of October. A great stupa is built at that place.Deeksha literally means acceptance of religion. Deeksha is to Buddhism as Baptism is to Christianity. Bhoomi means land. So, literally Deekshabhoomi means the land where people get converted to Buddhism. Deekshabhoomi is one of the two places of great importance in the life of Ambedkar, another being Chaityabhoomi at Mumbai. Deekshabhoomi is famous for its architectural beauty and historical importance. It is also one of the main centers of tourism in India.Ambedkar had already declared in 1935 that although he was born as a Hindu he would not die as one After this declaration, he extensively studied the doctrines of all the major religions to choose Buddhism for him and his followers.He selected Nagpur for his conversion ceremony, as he explained in his speech at that occasion, because Nagpur was the homeland ofNag people who embraced Buddhism and supported it with great efforts in its early period. A ground near Ramdaspeth area in Nagpur was selected for the ceremony. On October 14, 1956, Ambedkar and his wife Mrs.Savita Ambedkar took oath of Three Jewels and Five Preceptsfrom Mahasthavir Chandramani. Ambedkar then gave the oath of Three Jewels, five precepts, and 22 Vows to his thousands of followers. Ambedkar died on December 6, 1956, just one and a half months after this ceremony. After his death Dr. Ambedkar Smarak Samiti was organized for the management of Deekshabhoomi. The committee decided to build a Stupa at the place as a monument of that ceremony and a mass conversion of people to Buddhism.
GENERAL INFORMATION
Area : 217.56 Sq. Km.
Altitude : 312.42 Mts.
Temperature : Summer: Max. 43°C Min. 23°C.
Winter Max. 29°C Min. 09°C.
Rainfall : 1254 cm (49.4 Inches) STD Code : 0712 (95712 From Mumbai)

TRANSPORT AND COMMUNICATION
Air : Nagpur is connected by air to Mumabi, Calcutta, Delhi, Hyderabad, Pune
Sonegaon airport is around 6 km from the city.
Fare : Mumbai - Nagpur Rs. 8355 (Y), Rs. 9645/11300/- (J).
Rail : Nagpur is centrally located and is an important junction on the South- Eastern and
Central Railway lines. (2105 Vidarbha express)
Fare : Mumbai-Nagpur: A/C II Tier : Rs: 1199/-; A/C III Tier Rs.867/- II class : Rs.328/-.
Road : Nagpur is connected by road with Agra 809Km, Aurangabad 504Km,
Bangalore 1049 km, Bhopal 352 km, Kolkata 1192 km, Chennai 1380 Km.,
Delhi 1012 km, Kanha 266 km, Khajuraho 546 km, Mumbai 868 Km., Nashik
683 km, Pune 730 km, Varanasi 734 km. .
Aundha-Nagnath(203 Km.):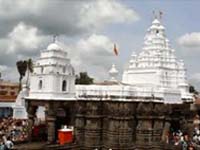 The twelve jyotirlingas are the most significant places of pilgrimage for Hindus in India. Five of them happen to be in Maharashtra.
Shiva has been worshipped in these places for centuries. Aundha-Nagnath is one of them. Anudha Nagnath is in the Hingoli District.
Pal and Yawal Wild Life Sanctuary (248 Km.) :
The tropical dry deciduous forest of Pal and Yawal of Jagaon district, constitute this sanctuary which covers an area of 177.52 sq.km. Many species of birds and animals are found here including the panther, jungle cat, neelgai, langur, wild dog, sambar, hyena, tiger, chital and chinkara and birds like the peafowl, grey jungle fowl, red spurfowl,
green pigeon, sandgrouse and grey partridge. Accommodation is available at a Forest Rest House..



Nanded (Huzur Saheb) (277 Km.) :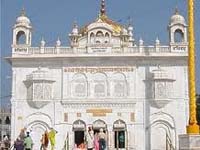 The Sachkhand Gurudwara is an important place of pilgrimage for Sikhs. This Gurudwara was built to commemorate the memory
of the tenth and last Guru of Sikhs, Guru Gobind Singh.
Yoy can get down at Aurangabad by flight from Delhi or Mumbai and take a Taxi and proceed to Nanded.
Accom: Tariff ranges between Rs.200-500/- for a double room:
1. Hotel Chandralok, Airport Road,
2. Hotel Anuradha Palace, Hingoli gate,
3. Hotel Nataraj, near central bus stand,
SHIRDI (Saibaba) – 120 Km :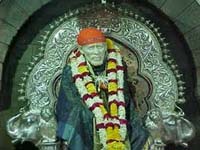 In Ahmednagar district, Shirdi has become famous all over India on account of its association with the renowned Saint Shri Sai Baba.
GENERAL INFORMATION
Area :
1.3 sq.km.
Temperature:
Max: 39.5°C. Min: 11.6°C.
Rainfall :
205 mm.(June to Sept.)
Season:
Throughout the year.
STD Code:
02423 (95-2423 from Mumbai)
TRANSPORT AND COMMUNICATION
Air :
The nearest airport is Aurangabad (144 km) connected with Delhi and Mumbai.
Rail :
The nearest railhead is Kopergaon (18 Km.) on the central line. 1333 Shirdi Passenger Mumbai-Kopergaon
Road :
Shirdi is connected by road with Ahmednagar 94 Km, Aurangabad 144 Km., 144km, Manmad 60 Km, Mumbai 302Km, Nashik 119 Km and Pune 205 Km. Shani Shingnapur 80 km. ,Dist Ahmednagar.
PLACES OF INTEREST
Sai Baba Samadhi and Temple:
The mortal remains of Sri Sai Baba are buried here; a life size marble statue was installed by the side of the samadhi in 1954.
Daily Programme: Temple Opens (0500 hrs.), Kakad Arti (0515 hrs.), Abhishek (0545 to 0630 hrs.), Darshan Starts (0700 hrs), Collective Abhishek (0900 hrs.), Noon Arti (1200 hrs.), Dhup Arti, followed by Keertan or Bhajan (1830 hrs.) and Shej Arti (2200 hrs.). The other places of interest include Chavdi, Dwarkamai Masjid, Gurusthan, Khandoba Temple, Lendi Baug and Sakori Ashram. Shani Shingnapur (80 km): Famous for the venerated Shani shrine.
Parali Vaijnath :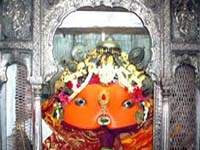 Parli Vaijnath is situated in Beed District. Swayambhu & Jagrit Sthan of Lord Sri Vaijnath, one of the twelve places of Jyotirling in India. Sri Ahilyabai Holker renovated this temple. An imposing & majestic temple on a hill. As one enters the premises of the temple spacious stone steps and lofty Mahadwar attracts one's attention.Here Sabhamandap & Garbhagriha are at the same level, which is rarely found in any Shiv mandir. Famous business
TRANSPORT AND COMMUNICATION
Air :
The nearest Airport is Aurangabad (230 km) connected with Mumbai, Delhi,
Rail :
Parali Vaijnath is a railhead. However the most convenient railhead is Parbhani (68 km), connected directly with Mumbai.
Road:
Parali Vaijnath is well connected by road with Mumbai 500 km, Nanded 120 km, Beed 100 km, Ambejogai 35 km, Aurangabad 230 km, Purna 93 km.
Accommodation
Rest House, Resvn: Executive Engineer, P W D Department, Beed
Other Accom :
• Kaveri Lodge, Station Road ;
• Agarwal Lodge, Near S T Stand ;
• Triveni lodge, Station Road ;
• Ajanta Lodge, Station Road ;
• Ganesh Lodge. Dharamshalas:
• Shri Vaijnath Devasthan at Post Parali,
• Taluka Ambajogai.
Trimbakeshwar :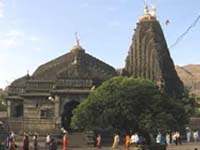 Trimbakeshwar is about 28 km south west of Nashik. In the sanctum sanctorum of this temple is a small depression full of water and in this water stands the Swyambhu Linga. Once every twelve years a big Sinhastha Fair (Kumbh Mela) is held in Trimbakeshwar which draws people from all over India.
TRANSPORT AND COMMUNICATION
Air :
Nearest airport is Mumbai (184 Km ).
Rail :
Nearest railhead is Nashik Road (28 km), on the Central Railway line, which is connected with major cities in India.
Road:
Motorable roads connect Trimbakeshwar with Mumbai 184 km, Nashik 28 km and Pune 210 km.
Accommodation
• MTDC Holiday Resort,
• Bramhagiri Suites . Dharamshalas :-
• Gujarathi Dharamshala;
• Maheshwari Dharamshala, Main Rd;
• Nivrattinath Dharamshala;
• Trimbak Nagarpalika.
Bhimashankar :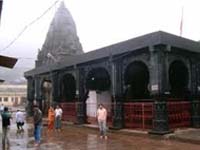 A beautifully carve Shiva Temple. It is said that Lord Shiva destroyed the tyrant called Tripurasura who was spreading misery among residents of the locality and the Linga stands at this spot. It is endowed with beautiful scenery and healthy climate.
TRANSPORT AND COMMUNICATION
Air :
The nearest airport is Pune (95 km), connected by Jet Airways with Mumbai.
Rail :
The nearest railhead is Pune (95 kms) on the Central Railway line.
Road :
Good motorable roads connect Bhimashankar with Mumbai 265 km, Pune 95 km, Ahmednagar 151 km and Nashik 191 km.

Accommodation
• MTDC Holiday Resort